Sanctuary
of the Blessed Virgin of Hal
The Sanctuary Beata Vergine di Hal dates back to the first half of the 1600s and stands on the remains of an older church "S. Maria di Buzzignano extra muros ". An architectural masterpiece of great value and a place of art and culture as well as of worship, thanks to the beauty of the paintings it preserves. The building has an ordinary wall and the interior has a pictorial decoration based on perspective views adorned with refined floral motifs, which make it one of the most characteristic sanctuaries in the region. The central nave overlooks an extraordinary cycle of frescoes and slowly leads you to the presbytery, on which a majestic dome rises.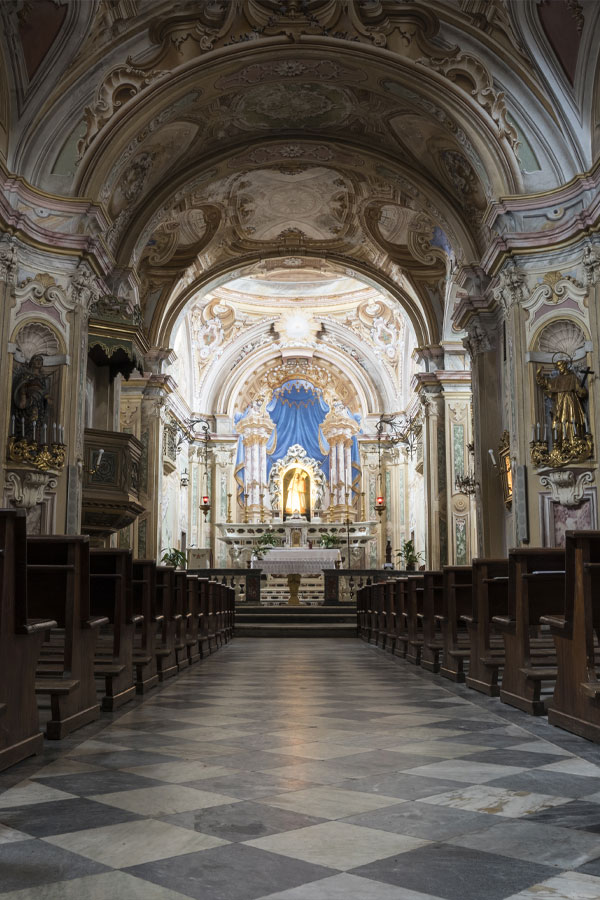 The gaze fascinated by such beauty is soon captured by the wall that houses the altar, where a precious depiction of the Madonna with the child painted on a slate plate is venerated. Both wear a richly decorated dress, but on the head of the Virgin appears a coat of arms, the coat of arms of the Spinola, a noble Genoese family. Under the painting lies an inscription in Latin, which testifies that it is a tribute to the Blessed Virgin by the Duchess Maria Spinola. The painting is inspired by a wooden statue housed in Hal, Belgium. An unknown painter portrayed it under the will of Ambrogio Spinola to give it to his sister Maria.
In the second half of the 1600s, the Filipino Fathers arrived who gave the Church its present appearance and built a convent adjacent to the Sanctuary. The town of Murazzano attributes its salvation to the Blessed Virgin when, in 1944, it was about to be burned by the Germans.
Timetable
Every day
9 am-6pm
Visits
Free visit
For large groups or for a guided tour, contact the Municipality of Murazzano.
Contacts
Tel. 0173/791201
Email: comune@comune.murazzano.cn.it