A summer must that will take you back in time to the sinoire snacks that cheered up the warm seasons of the poor Piedmontese tradition. In the ancient Langhe culture, the sinoira snack was the inevitable meal prepared by women for the Langhe peasants, to compensate for the fatigue of the long summer working days that began in the middle of the night and continued until late in the evening, dedicated to the harvest of fruits and the harvest. Certainly nothing elaborate, but a substantial break based on typical products of the Langhe: a bottle of wine, fresh bread (the biova!), Cheese, salami and tasty stuffed peaches.
Ingredients
80 gr macaroons
30 gr of butter
10 grams of cocoa powder
6 ripe and firm yellow peaches
1-2 tablespoons of rum
2 egg yolks
60 grams of sugar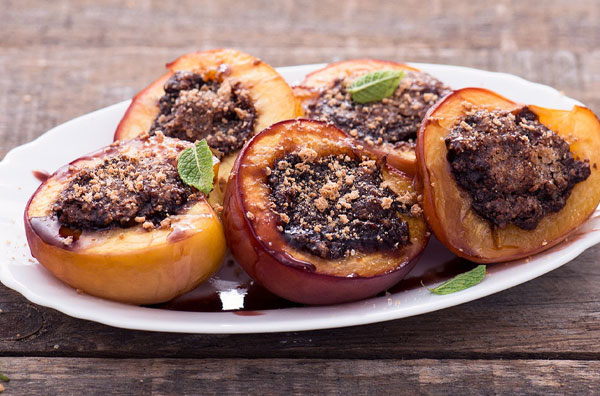 Method
In the past, "vine peaches" were used to make this recipe, an ancient variety that is now particularly difficult to find and grown together with the rows of vines. Alternatively, it is possible to use existing peaches on the market, but it is important that they are of the "Spanish" variety (with the stone detached from the pulp).
Wash the peaches thoroughly, dry them and divide them in half, but without peeling them. Remove the stone and with the help of a spoon remove a part of the pulp, leaving a layer of at least one centimeter inside the peel. In a blender, finely chop the macaroons, add the pulp extracted from the fruit, cocoa, 2 egg yolks and two teaspoons of rum. Blend the ingredients until you get a homogeneous mixture. Place the peaches previously cut and deprived of the pulp in a suitably greased baking tray, and then fill them with the freshly prepared mixture. Cook the full persi in a static oven at 160 ° for about an hour.
Generally the full persi are served lukewarm, but they are also good cold (not from the fridge).
Et voilà, let the sinoira snack begin!