Raw Albese meat is undoubtedly one of the most popular dishes of Piedmontese culinary art.
It is said that the origins of this dish are very ancient and come from Asia. According to tradition, some Piedmontese travelers returning from the East brought with them small horses, which the local people used to eat raw. A truly delicious recipe that, due to its simplicity and intense flavor, spread first throughout the whole of Italy and then in the rest of Italy.
Ingredients
half a kilo of veal leg
6 cloves of garlic
the juice of two lemons
olive oil
salt
freshly ground pepper
a White Truffle of Alba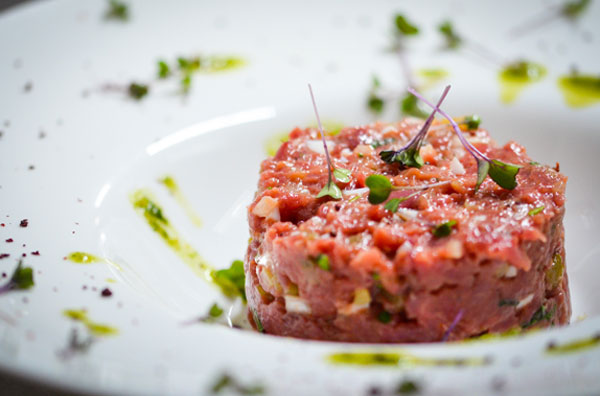 Method
Free the thigh piece of each cuticle. Cut it into pieces and with a very sharp and sturdy knife chop finely on a cutting board. It is important that this operation is carried out in a time as close as possible to that of the consumption of the meat. If you are an expert in cutting meat, do not worry, the ideal solution is to buy the already minced meat from the butcher. Proceed by placing the minced meat in a bowl, add the crushed garlic cloves and the olive oil. Mix the mixture well so that the oil is absorbed by the meat, which however must not be too greasy or excessively dry. An advice? Do not exceed ten tablespoons of oil. Add salt, pepper and lastly the lemon juice. Stir thoroughly and remove the garlic cloves before serving. The meat must retain its beautiful rosy color. Serve and sprinkle with a shower of thin slices of Alba White Truffle. A dish as simple as it is tasty, ready to take you on a journey to the East and to our tradition!