The finanziera is a dish that few people know, where the rooster's combs act as co-protagonists.
A second born from the peasant tradition that focused on the reuse of offal, parts discarded during the transformation of cockerels into capons and of some cattle slaughter waste. However, it seems that at a certain point in history, the financier abandoned the tables of the peasants and became an elitist dish taking the name of the ceremonial jacket, called the financier, worn in Turin in the 1800s by representatives of Piedmontese finance. It is from this historical moment that the financier becomes the protagonist of great cuisine, making its appearance at the Ristorante del Cambio in Turin, where it was served to the Count of Cavour, who greatly appreciated this dish.
Ingredients
150 g of veal sweetbreads
150 g of veal brains
150 g of veal loin in pieces
150 g of cockscombs
100 g of minced veal pulp
100 g of veal fillet
100 g of veal kidney
100 g of veal liver
100 g of chicken livers
150 g of peeled peas
150 g of porcini mushrooms in oil
70 gr butter
olive oil
00 wheat flour to taste
1 glass of Barolo
1 glass of dry Marsala
1 tablespoon of vinegar
salt
broth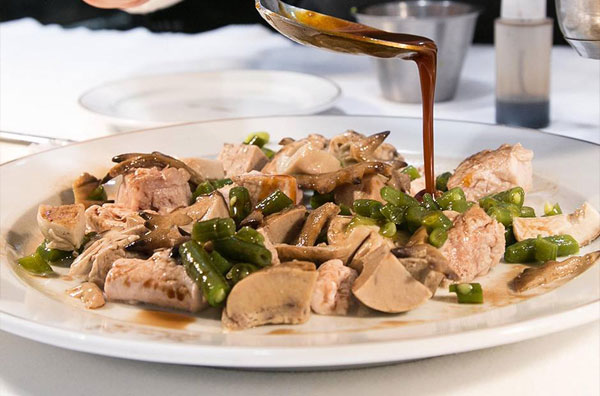 Method
Take a rather large pan designed to contain all the ingredients of the financier. In it, brown the kidney cut into small pieces and the veal fillet cut into strips with a little butter. As soon as they are browned, add salt, add a little broth and place the pan in a hot pan over a very low heat. With the minced meat, make balls the size of hazelnuts, flour them and put them in a pan with a little butter. As soon as they are browned, salt them and put them in the pan with the fillet and kidney. Then, in a pan, cook the other floured ingredients one at a time: the loaves, the brains, the sweetbreads, the cockscombs, the chicken livers and the veal liver. As they have reached cooking, always place them in the pan, which will be kept moist with the broth and with the Barolo to be added little by little.
Finally, cook the peas with a little oil and broth and sauté the porcini mushrooms in oil. Then combine them with the other ingredients, mix well all the components of the financier that need to be linked together.
Season with salt, if appropriate. Add the tablespoon of vinegar and the glass of Marsala, raise the heat for two minutes, then serve immediately.
And the financier is ready, enjoy your meal!